We invite you to participate in the international exhibition PROWELD, which will take place on May 29 – June 1, 2018 at the same time and place with 14th Competition of Belarusian ad international welders (Minsk, Belarus, 20/2 Pobediteley av., Roofed Soccer Arena).
Exhibition sectors

Welding equipment

Power supplies, tools and accessories for welding

Parts, accessories and supplies for welding equipment

Materials for welding and allied processes

Equipment for the surface preparation

Equipment for quality control of weld joints

Welder overalls, personal protective equipment

Collective security systems during welding, ventilation and filter systems

Business program:

Breakout session "Efficient welding and related technologies in the Republic of Belarus".

Seminars on the inspection of welding production and certification of welders in the construction industry.

The business program still is developing and can be amended.

About the competition
| | |
| --- | --- |
| Participants of welder's Competition 2010-2017 | Quantity of welders by departmental subordination of organizations participating in the competition, 2017 |
| | |
Nominations of welders' Competition:

А (135). Mechanized welding

Б (141). Argon arc welding

В-1 (111). Manual arc welding (pipe welding)
В-2 (111). Manual arc welding (reinforcing bars welding)

Г (311). Manual gas (acetylene-oxygen) welding

Creative welding
The Ministry of Industry, the Ministry of Architecture, the Ministry of Energy, the Ministry of Education, the Ministry of Housing and Communal Services, the concern Belneftekhim, the National Academy of Sciences of Belarus, and the organizations without departmental subordination take part in the competition.

Visitors: the main welders, the main technologists, engineers, specialists in the organization of welding production at the enterprises of machine building, energy, oil and gas industry, metallurgy, construction, housing and communal services, railway complex and on the basis of vocational schools.

Details about the welders Competition can be found.
You can get acquainted with the list of participating Companies here.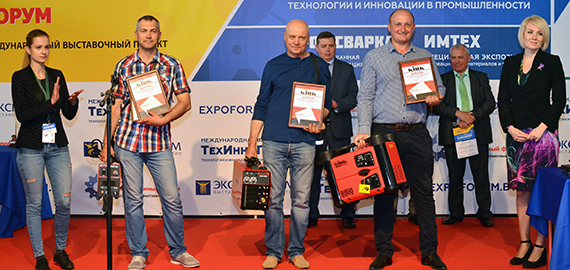 International exhibition PROWELD and 14th Competition of Belarusian and international welders is the project within the Belarusian Industrial Forum 2018 (May 29 – June 1, 2018) within framework of which will be held 21st international exhibition TechInnoProm. At the same time and place also will be held 17th international exhibition Chemistry. Oil & Gas, 2nd international exhibition PLASTEC.