Fair profile
Decor. Interior decoration

exhibition is aimed at providing visitors with in-depth knowledge about the new trends in interior design and decoration,

exhibitors with opportunity to showcase their products and services

.

During the four days, visitors will be able to acquainted with the latest models of wooden and carpet floor coverings, wall decoration materials made of natural and artificial stone, interior and exterior doors, designers' solutions of door panels, door handles and furniture accessories, partition systems, artistic ceilings, etc.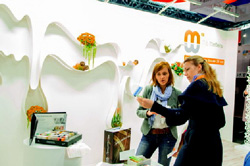 Architectural and decorative lighting, lamps of European manufacturers, exclusive designer's lamps, conditioners, sanitary engineering, collections of ceramic tiles and mosaics, mirrors, designer's wallpapers and textiles will become key segments of the exposition.

Dates:

26 - 29 April, 2016



Venue: Roofed Soccer Arena, Minsk, Belarus

Su

pported by:

the Ministry of Trade of the

Republic of Belarus





Expected Scale




approximately 6000 sq.m of exposition area
more than 7 000 visitors
over 150 exhibitors from 10 different countries, most from Belarus, CIS and Eastern Europe
Decor. Interior Decoration is held in conjunction with the 22nd edition of FURNITURE. DESIGN. INNOVATION, which is the region's largest annual meeting point for both professionals and amateurs of furniture production, interior design and refurnishing.